To The Girls Feeling Insecure About Their Body.

How many of you are sitting behind your computer or phone reading this, are self conscious about your body and are afraid to go into the real world. Or the girls that envied other girls while they watch them walk by. We all have these problems or at least I do. Everyday I wish I looked like someone else or that I didn't have thunder thighs (who in the world came up with that...it's so sad we used this to describe parts of our body.) I wish my acne would just vanish. It goes something like this..."Ugh look how pretty she is" or "I wish I was as skinner as her!" What I do is sickening and disgusting. This is probably the worst thing I do "Well at least I'm skinner than her." We compare each other every single day, but maybe you don't fall into the same trap I do. Maybe you don't have any problems with your body image, yet maybe your problems are falling between your family, friends, work, loneliness, or depression. I have no clue, but know we are all here for you. We all fall into these weaknesses somehow and we do it far to often. We all need to stop for a second, and see how Jesus looks at us.
Powered by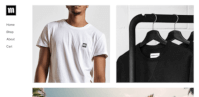 Create your own unique website with customizable templates.